Our Gallery
Please see the below images for more of our activity on site and engaged in our projects
Established in 2015
Serving the communities of Kasguma Valley and surrounding villages in Dist. Bhimber & Dist. Mirpur
FREE Medical Treatment
Offered to the registered poor people within the region.
Ambulance Service
On-site ambulance providing pick up and drop service
Our Testimonials
take a look and read what some of our honoured guests and visitors have had to say...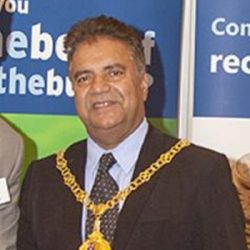 Mohammad Nazir (Former Mayor of Walsall U.K)
During my time serving as the Mayor of Walsall Town (UK), I was honored to be invited as the chief guest for the formal opening ceremony of this hospital. I was further delighted to see many people give donations through my mayoral charity for this project.
I was in a privileged position to assist KHWT in its infrastructure development and in actively building a strong team of professional and experienced people just to name a few: Cllr Dr Ian Robertson, Khwaja Mohammed Aslam MBE and Professor Abdul Rashid Gatrad deputy Lord Lieutenant of West Midlands who have assisted the trust in raising substantial funds, obtaining the required equipment through donations and helping steer the trust to new accomplishments.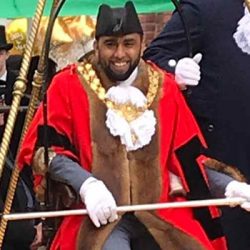 Mazamal Hussain (Current Mayor of High Wycombe U.K)
On our visit to the Kasguma General Hospital I was highly impressed with the facilities they had in place. I was happy to learn about the FREE medical eye/dental camps they hold regularly for the less fortunate. This is a great thing to see in a region that has a large number of people who struggle to make ends meet. Medical treatments can often be expensive or in faraway hospitals that are difficult to reach for some. I wish KHWT all the success for the future and will be willing to help within my capacity.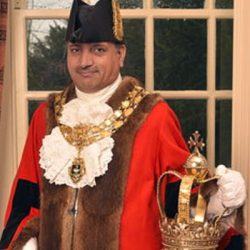 Zia Ahmed (Former Mayor of High Wycombe U.K)
When I was the mayor of High Wycombe I had the privilege of visiting Kasguma General Hospital and I was overwhelmed and extremely delighted to see that the standard were on par with many hospitals in Europe and the United Kingdom. Although the hospital is located in a remote area with limited infrastructure I was impressed by the facility. Furthermore I was extremely happy to learn that the Trust offers FREE treatment for the poor and needy people of the region. Well done to KHWT!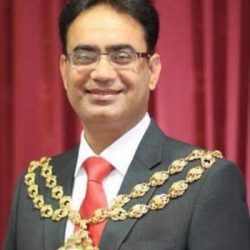 Ateeque Ur Rehman (Former Mayor of Oldham U.K)
I am deeply honoured to have strong association with KHWT, and was present at the opening ceremony of Kasguma General Hospital. I also had the privilege of visiting the Hospital during my Mayoral year at Oldham Council in 2016. My town Oldham has strong links with KHWT and i am proud that the Chief Executive Mohammed Mustafa is also from Oldham. I have been involved in fundraising activities for the Trust in the UK and am continuously working with the Trustees to ensure that this project grows from strength to strength.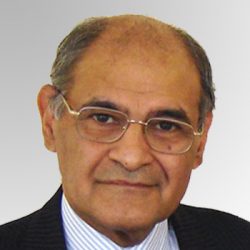 He has provided humanitarian aid to over 20 countries and has built a hospital in Gujarat Pakistan – named after his Mother Jubaida - where Cleft operations are carried out with an infrastructure of dental care, audiology and speech therapy. In Gujarat he initiated the Club foot project after building a facility in the centre of the city of Gujarat. He supports breast operations in Pakistan and has been responsible through his charity Midland International Aid Trust for thousands of cataract operations in Pakistan and around the world. On all his trips to various countries he trains and teaches the art of how to look after a baby at birth.
Professor Abdul Rashid Gatrad OBE
Deputy Lieutenant to Her Majesty the Queen
PhD; DSc (Hon);FRCP; FRCPCH; MRCS; D.Obst; DCH;MbChB (Leeds)
Dip Health Mgt (Keele); Cert Med Educ (Dundee); ILT(M);
Fellow of Higher Academies
I have been to Pakistan on many occasions and have adopted the Kasguma General Hospital and was involved in its planning with Muhammad Mustafa. Once it was built I have given many lectures there and advised on various issues with the help of Dr Ian Robertson. I have seen this hospital blossom over the last few years under the stewardship of Muhammad Mustafa and continues to flourish. One of the highlights is the regular eye camps that are held there which benefit people from all over Kashmir.
With trustees of the Kasguma Health & Welfare Trust, I have visited many parts of Kashmir and witnessed the fantastic work they do in helping build/repair schools and also provide toilets and clean water. Midland International Aid Trust which is run by myself and Khwaja Mohammad Aslam have paired up with Dr Ian Robertson's Oak Tree Trust to work together in order to help KHWT achieve well beyond that which is expected in a poor resourced country.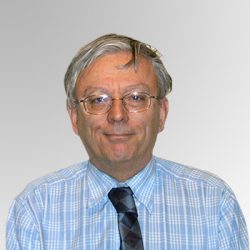 Dr Ian Charles Robertson
Dental Surgeon
Chairman & Trustee of OAK Tree Trust U.K
Working closely with KHWT for a number of years has been a pleasure as we have similar aims at OAK TREE TRUST, striving for the good of humanity on Joint projects involving: providing FREE cataract operations and FREE dental care along with food donations.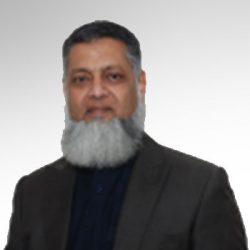 Dr Ijaz Bashir
Medical Director of Cleft Hospital - Gujrat Pakistan
Medical Director of Ayesha Bashir Trust Hospital
Working closely with KHWT for a number of years has been a pleasure as we have similar aims at OAK TREE TRUST, striving for the good of humanity on Joint projects involving: providing FREE cataract operations and FREE dental care along with food donations.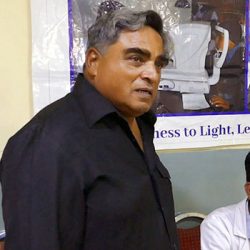 Al Shifa Eye Trust
Col. Retd. Tariq Usman
General Manager of ACCO (Al-Shifa Center for Community Ophthalmology)
Being a part of Al-Shifa Trust Eye Hospital (ASTEH), I have been to almost every district of our country, I observed the urge of eye care services in Kashmir more than anywhere around. Kasguma Hospital is putting all the efforts in providing all health care services but not only this, Kasguma Hospital went an extra mile by collaborating with ASTEH for surgical eye camp where we managed hundreds of surgeries. It wouldn't have been possible without the cooperation and dedication of the staff and management of Kasguma Hospital to deliver these massive numbers of surgeries with this huge success.
Looking forward to achieve more milestones together.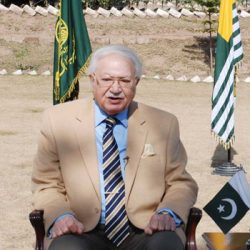 Raja Mohammad Zulqarnain Khan
Former President of Azad Jammu Kashmir
The establishment of Kasguma General Hospital is a great venture and I congratulate the Trustees especially Ch. Muhammad Mustafa of Mora Jango for making a single biggest donation of over 2 Crores. I highly appreciate his spirit for the welfare of the people of Kasguma. I also appreciate and thank all other contributors, individuals, and organisations. May God bless them all. I wish more people from this area share this feeling. I wish this hospital and the people of Kasguma all success.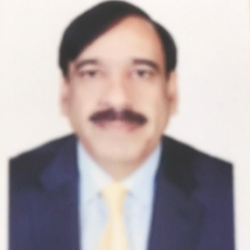 Muhammad Fiaz Akhter
Rtd. Addl. Chief Secretary (General)
Azad Government of the State of Jammu and Kashmir
It is a matter of honour and privilege to acknowledge the efforts of
Kasgumma Health Welfare Trust, Azad Jammu and Kashmir (AJK).
The Trust has established a state-of-the-art health facility in a
remote area of AJK. The poor & needy population of the Kasgumma
and adjoining areas are benefitting greatly from the outstanding
facility.
The Management of the Trust, especially Mr. Muhammad
Mustafa, Chairman/CEO has diligently put in place the required
resources to provide excellent inpatient and outpatient health
facilities delivered by a professional team of doctors and health
professionals. I had the honour of participating in the inaugural
ceremony of the hospital and later had the opportunity to see the
working of this facility first-hand. In my estimation, the facility is a
blessing for the people of the area.
May Allah accept this great humanitarian work of the Trust
Management.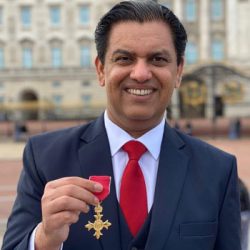 Dr Zahid Chauhan (O.B.E)
Dr Chauhan was appointed OBE (Officer of Order of British Empire) by her Majesty the Queen in 2019 for his services to homeless people.
Zahid was appointed Cabinet Member for Health and Social Care at Oldham Council in 2018, having built a reputation as a committed campaigner on improving medical provision for the homeless, combating superbugs prevalent in UK hospitals and championing the values of the Trade Union movement in health and social care; opposing outsourcing and the Anti-Trade-Union legislative agenda.
As a clinician, Dr Chauhan and his surgery have been nominated for the UK General Practitioner of the Year award and Zahid continues to pursue stronger rights at work for clinicians as Equalities Officer for the Doctors in Unite group.
It has been an honour to visit Kasguma General Hospital recently . This hospital is a great example of rural health centre run by a charity. Hospital is playing significant role in prevention of disease and management of long term health conditions such as Diabetes. I was impressed to see the huge focus on patient education and prevention.
Support us for a better future
As a growing hospital facility we are always looking to better our service delivery and procedures. If you work in the medical sector or have links to the industry we would love to hear your feedback or help us further improve the works we have done so far.

Medical Facility Equipment
The hospital is well equipped, accessible and with onsite fully trained medical staff
Already we have had a lot of input from volunteers and site visitors who have shared their knowledge to make the hospital a successful running project. Furthermore we have been fortunate to have also received donations in the form of medical equipment from the UK which has allowed us to upgrade our facilities for the betterment of the community.